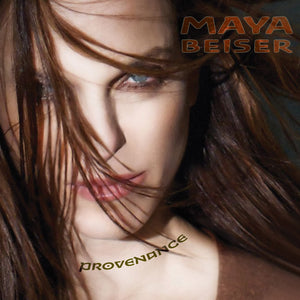 Islandia Music Records
Maya Beiser: Provenance
Regular price
$20.00
$0.00
Unit price
per
The title means 'origins,' referring to both Maya's personal history and the intertwining cultural traditions that course through this stunning disc. On some selections, the rich-hued sound of Maya's cello is heard on its own; on others, she's accompanied by Lebanese-American master musicians Jamey Haddad (percussion) and Bassam Saba (oud), with percussionist Shane Shanahan. The culminating track is a dazzling arrangement of Led Zeppelin's Kashmir for multi-tracked cello and drumkit, featuring studio legend Jerry Marotta (Peter Gabriel, Paul McCartney, Elvis Costello).
Provenance brings together music by contemporary composers from Armenia, Kurdish Iran, Israel, the US, and the UK. It was inspired by the Golden Age of Medieval Spain, when Muslims, Christians and Jews lived together, giving rise to a centuries-long flowering of commerce, culture, art and architecture. Likewise, Maya grew up in an Israeli kibbutz at the foothills of the Galilee Mountains, co-existing in harmony with neighboring Muslim and Christian Arab villages. Provenance is inspired by that experience, celebrating the glory of a multi-religious, multicultural civilization and the hope of lasting peace.
Kayhan Kalhor's I Was There by is based on a melody by the ninth-century Persian Kurdish musician Ziryab, a former slave who became the most influential musician of his time. Armenia's unique musical tradition is represented by Djivan Gasparian's haunting Memories. Gasparian is one of Armenia's greatest living musicians, a virtuoso player of the traditional double-reed Duduk. Mar de Leche (Sea of Milk) by Israeli composer Tamar Muskal draws on an ancient love song in Ladino, the mixture of Hebrew and Spanish spoken by medieval Sephardic Jews, whose music blended Arabic and Jewish traditions. Douglas J Cuomo, composer of the theme to Sex and the City and the chamber opera Arjuna's Dilemma (Innova 697), contributes Only Breath; inspired by a poem by Rumi, it builds slowly from a meditative opening to a virtuosic climax.
Led Zeppelin's Middle Eastern-tinged Kashmir, heard in an arrangement by Evan Ziporyn, makes a fitting close to this compelling disc. Cellist Maya Beiser has captivated audiences worldwide with her virtuosity, eclectic repertoire, and relentless quest to redefine her instrument's boundaries. She is a featured performer on the world's most prestigious stages, from Lincoln Center to the Sydney Opera House and the Taipei International Festival. Appearances in Barcelona, Paris, Tokyo, Shanghai, and San Francisco have brought her acclaim worldwide. She has collaborated with artists across a wide range of musical styles, including Brian Eno, Philip Glass, Mark O'Connor, Steve Reich, Trent Reznor of Nine Inch Nails, and Tan Dun (Crouching Tiger Concerto), among many others.
---
Share this Product
---