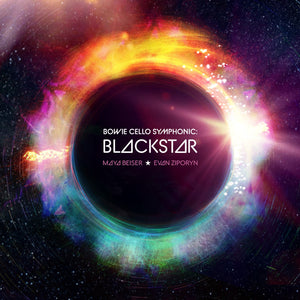 Islandia Music Records
Bowie Cello Symphonic: Blackstar
Regular price
$20.00
$0.00
Unit price
per
Available now!

On January 8, 2016, his 69th birthday, David Bowie released "Blackstar". He died two days later on January 10th. "Blackstar" was Bowie's parting gift to the world, a self-eulogy, hinting at the sacred and reveling in the profane. Blackstar is a concept album, but the concept is unnamed, or is the Un-nameable itself: facing death, living in its shadow.
In this new album "Bowie Cello Symphonic: Blackstar", visionary cellist Maya Beiser and composer/conductor Evan Ziporyn honor Bowie and his influence. Immersing themselves in this astounding music, living inside it, embodying it. Bowie's 4-octave vocal range matches the cello almost exactly, making it the perfect protagonist instrument. Beiser and Ziporyn re-create the entire album as a cello concerto, arranged by Ziporyn for Beiser as soloist.
Accompanied by the Ambient Orchestra, Maya Beiser transforms her cello; A vocalist one moment, a lead guitarist the next, she evokes David Bowie's spirit while never ceasing to be herself. Even in these instrumental versions, the words and their meaning hover over the music, despite their absence, much like the 'spirit' figure in the first song: gone, but with a trace.
---
Share this Product
---